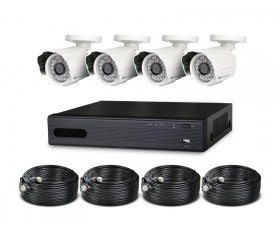 Welcome to the Danish Electronics & Video surveillance
Professional solutions for monitoring systems | Video surveillance (CCTV)
Danish Electronics & Video monitoring stock a wide assortment of AHD kamaraer of high quality and all surveillance cameras have all high resolution starting with 1.0 MP up to 5.0 MP, and DVR recorders to store recorded video and pictures from the cameras. In addition, we offer set up complete systems with NVR, DVR and AHD kamaraer at very favourable prices.
Monitoring system
For both private as well as small and large businesses, it might be a good idea to invest in a complete surveillance system. With such a set will get you for everything you need in the context of monitoring your home or business. A overvågningssæt from the Danish Electronics & Video surveillance includes monitoring camera, DVR box, cables, remote control, mouse and splitter.
We have different sets in different price ranges, so you can definitely find one that suits your needs and your budget. You can read a little about the differences below on our monitoring systems.

 Our range includes the following types of kamaraer and NVR and DVR: